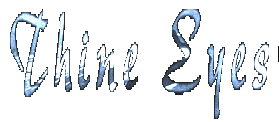 ---

On September 9, 1999, Doppler Effect Records released the upcoming Thine Eyes CD, My Knobs Taste Funny, their second release on the Portland-based independent label. This collection of new tracks, plus five remixes from established artists in the electronic underground, provide a glimpse into the evolution of the Portland-based trio, offering greater radical electronic treatments and sonorities than their Doppler Effect debut, Christian Sex Loops.
My Knobs Taste Funny features eight new tracks, characterized mostly by the band's reluctance to adopt a stylistic "trademark sound" that other artists subscribe to. Various sonic treatments on the album range from the hypnotic electro-funk of Quality Porn to anachronistically futuristic ML Theme; from Warp-ish ambience of Sissy Punch to the compelling digital tapestry of the title track. The inclusion of quality remixes by Scar Tissue, Suspicion Breeds Confidence, Pain Station, Dave Wright, and Mark Spybey provides a wide gamut of texturally interesting and challenging interpretations of Thine Eyes' Christian Sex Loops tracks.
---
On May 26, 1998 Doppler Effect Records released the first ever domestic album from the Portland (Oregon) electronic outfit Thine Eyes, titled Christian Sex Loops. A band known for their highly-acclaimed and sonically imaginative tracks which have appeared on various Industrial compilations throughout the decade, Thine Eyes provide a refreshing change of pace and a viable alternative to the hordes of derivative and sordid groups who glut the contemporary Electronic and Industrial scenes.
Christian Sex Loops is a collection of thirteen solid tracks which dares to obliterate any preconceptions and prejudices that one may have about the Industrial genre. Fusing together other musical influences as twentieth-century atonal works, musique concrete, Gothic, and even Electronica, the trio (which consists of Laird Sheldahl, Tanner Volz and Rian Callahan) provides over 72 minutes of highly captivating electronic drama by utilizing a wide sonic palette of sampled and synthesized sounds, Volz's emotive tenor vocals, and solid songwriting as their key tools. Songs such as SeeSaw (Amendments 1) and Exhaust exemplify the groove-oriented side of Thine Eyes, while others such as Count (Amendments 3) and House Parts depict contemplative, tempestuous sketches that very few artists could rival in intensity. This latest opus from Thine Eyes will appeal to the longtime fans of the band who have witnessed the group's accolades from their contributions to critically-acclaimed independent compilations such as RAS-DVA's There Is No Time, Arts Industria's The Art of Brutality and Construction No. 9 collections, and Doppler Effect Records' own Undercurrent-PDX and Resurgence anthologies.
---
[Home] [Discography] [Interviews] [Reviews] [Photos] [Links]

Visitors Since 2/15/98
Last Modified: