---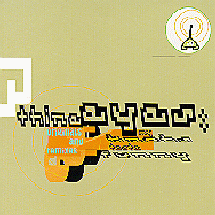 Thine Eyes: My Knobs Taste Funny
---
These sound scientists from Portland have been active in the underground for years. Last year saw their brilliant return after a long hiatus with the release of "Christian Sex Loops", albeit swathed in a radically changed sound cloth. Their industrial hodgepodge with female vocals gave way to mecha-electronics for futurists. Microchips crackle galore and each sound comes across as if individually soldered with loving care. Finely structured bubble gum tracks that are at the same time abstract and funky. "My Knobs Taste Funny" comes as the predecessor's remix album and the term remix has been taken quite literally. The congenial versions by Scar Tissue, Pain Station, Not Breathing, Mark Spybey and Suspicion Breeds Confidence range from rhythmically catchy to constructivistically nailed together. They all give the at times quirky Lounge Electronica tracks yet an even darker twist. Industrial Ambient, Warp Electronica, Tribal Breakbeat, Analog Pop, every style is being astutely plundered. The remaining seven new tracks almost ask too much of the listener's aural synapses for shear scope of sound. Insanely odd micromotoric rhythms work their way through brittle melodies, not even shying away from Depeche Modeesque vocals, just so their electronic pulse can peter out, fearful of the next onslaught already lying in wait. Breakbeats, clicking digitalia, filter jumps, exquisitely chosen speech samples, everything has been assembled to prove that Autechre take themselves way too seriously. Thine Eyes is IDM with humor and chaos in a nutshell. (TextundTon - Till Schreder )
---
Thine Eyes have been probing into new sonic realms album after album, never refusing any forms of introspective quest for new atmospheres, plunging deeper and deeper into the inner complexity of their tortured brain cells. Evolving from a rather ethereal electronica type of sound towards a more industrial high-tech experimental form of expression. Thine Eyes have maybe never achieved a big success, but built up a name, a reference on the futuristic and innovative electronic movement in America. This new full length album is another chapter in the Thine Eyes' evolution offering this time a drastic plastic surgery to some 13 of their sonic babies. Giving a new phase to their tracks, a new taste, a new rainbow of emotions, a new direction, a new dimension... This album is a real firework of sound colors, an explosion in the most possible directions to the ultimate pleasure of innovative electronic lovers. Thine Eyes operate in the middle of the highway separating Download and Haujobb in a much darker and rougher manner. A very entertaining experience. (Sideline - Seba)
---
I'm loving the Thine Eyes. Very challenging and not at all easy to listen to and that's the shit that I dig. Plus they've learned that ratchety sound from Autechre well. ( KXLU - Brian Albers)
---
This release on Doppler Effect was issued late September, and I'm beginning to wonder why nobody has mentioned it (yet). Lots of idm/experimental substructure's on here, and in a darker (almost) pseudo-industrial vein with hints at Autechre (idm-side) and Plaid (quirky- side). Quite an interesting full length for these Seattle folks, funky melodies, crisp ambient elements splashed here and there, and a total work out of experimental electronics that sits well with me so far. (Grooves - Pietro da Sacco)
---
It's been too long. Too long since the 'debut' Thine Eyes album Christian Sex Loops came out. That was almost two years ago, dammit! Why can't these guys be as prolific as, say, Richard D. James? I need more Thine Eyes!
Anyway, those three guys - the all-American, sock-monkey-spanking Laird Sheldahl, Tanner Volz, and Rian Callahan - have come back for another rompin', stompin' album on Doppler Effect Records. Well, it's not quite rompin' and stompin' - more like dubbin' and clubbin'. Just like Christian Sex Loops, this album is a foray into the potent world of intelligent dance music. My Knobs Taste Funny features remixes of older material, remixes of as-yet unreleased (or perhaps rare) material, and just plain new material.
Starting off the album is the quizzical "ML Theme." ML seems to be some recurring idea throughout the album, as the artwork claims "Thine Eyes is ML" and that the album is "written and produced by ML." Whatever that means. My guess is that the initials refer to "monkey love," in reference to the group's sock monkey in-jokes. Anyway, "ML Theme" is a one-minute jam of a pretty straightforward synth line with some keys and monophonic drumming laid over it - kind of childish-sounding, but very in keeping with the silliness to come.
"Prequel" in its original form is found on the Shelter compilation, while the "Bent Wookie Mix" (Simpsons reference?) appears here. This is a bit more staticky than the original, but overall I don't detect much change; it still consists of disjointed yet polished bleeps and warps. And then there's the token "shake your head while chuckling" song: "Quality Porn." I'm going to save face and NOT compare this to famous shagadelic themes. This is more of an instrumental lounge-techno track, with an emphasis on the minimal keys and sparse beat. It's reminiscent (but not derivative) of something from the album Expert Knob Twiddlers, by Mike and Rich (the Mu-ziq and Aphex Twin collaboration).
I've had "Steve Bustajammed to the Market" as a RealAudio file on my computer for months, ever since Thine Eyes put it up on its official page to preview. Hearing the real thing is far more gratifying. The subtle textures of Steve grooving his way down to the nearest grocery store, recorded in the form of a bouncy but not overt beat and sliding hisses, are much more impressive in this excellent sound quality.
But I've forgotten to mention the remixes, which are exceptional in their own right. Pain Station contributes "Court (Reebrmx)" - this was listed as "Count" on Christian Sex Loops. The beat is the same, but Scott Sturgis has stripped down the intermediary synth melodies, slowed down the tempo into a drifting and unsure range, and given the percussion a slight vibratory nature. It's sickeningly enjoyable to hear, a dark take on an otherwise melodic and fun-loving sound.
Scar Tissue's take on "Vaseline Machine" is unmistakable. The group lays a dirty grind and the occasional dialogue sample on top of the technoid warfare of the original. It simply and effectively alters the clean sound into the group's trademark noisy style. Propeller, the side project of Dead Voices on Air, is even more guilty of producing a 'selfish' remix. "Eyes Like Fishwives" sounds nothing like Thine Eyes at all - none of the spastic rhythms, melodic synths, nothing. It's a five-minute ambient track of textures and undulations. Did Mark Spybey even get the DATs for the track? This is an excellent piece, but it bears no resemblance to Thine Eyes, making it a horrible remix. And considering one does not pop in a Thine Eyes CD to hear ambience, this really has no place on My Knobs Taste Funny.
I had extremely high expectations for My Knobs Taste Funny after loving Christian Sex Loops for so long, and almost all of them were met. Releasing an excellent remix album is hard to do, but Thine Eyes pulled it off well. I'm irritated that Propeller made it on here, because it really destroys the humorous and disjointed flow of the rest of the album. I wish the group had managed to include a remix of "Flick Flick," but you have to stop somewhere. Overall, My Knobs Taste Funny is, from start to finish, beautiful testimony to the fact that sophistication and self-parody are not two mutually exclusive concepts.
Doppler Effect Records offers My Knobs Taste Funny for $12 postage-paid. Visit the official Thine Eyes page for more information and RA previews. The group's MP3.com page has even more music to check out. (Grinding Into Emptiness - Mihir)
---
The Thine Eyes trio create light-hearted, techy tunes that fall somewhere in between quirky IDM and experimental electro. From the old school computer game inspired intro forth none of his material fails to impress. They work with a great balance of musical talent, electronic skill and a healthy sense of humor.
My Knobs Taste Funny is basically a trumped up remix EP with enough fresh material thrown in to disguise it as a full-length. The roster of remixers is in itself quite impressive, let alone the variety of interesting ways these people were able to reinterpret Thine Eyes' material. Tobias Schmitt of Suspicion Breeds Confidence has the first crack at it, and he breaks the ice with a severely manipulated, considerably beat-driven mix. Multiple layers of gritty loops and textural samples are tightly woven together. This is one of the more vocal tracks on the disk, however processed and inhuman the voice may be.
Not Breathing's Dave Wright contributes the most energetic and dancable remix; repetitive and layered, with a variety of beats radiating from the loopy core. Mark Spybey goes in a completely opposite direction. Not surprisingly his mix acts like an intermission, completely different from anything before or after it. Long, atmospheric drones stretch over a constant low, bassy grumble. This sounds closer to straight-up Propeller material than anything Thine Eyesish.
The band couldn't resist getting in on the remix action themselves, and their 'bent wookie' mix of "Exhaust" is the proof. The melodic, untreated vocals seem naked against the electronics, but it's a nice dose of personality among all the synthesizers and computers. Scar Tissue, the only non-solo band remixing on the disk, take to the task of mixing with an expected dark bent. Slow drifts of vibrating tones and relaxed drumming are interspersed with synth melodies. Scott Sturgis of Pain Station/Converter caps the disk off with another fairly gloomy contrast to the happy-go-lucky sounding source material. A slow mix of hard, distorted beats form the base of the track, with a flickering synth scale and reverberating voice samples occasionally distributed over top.
With My Knobs Taste Funny Thine Eyes has managed to round up a diverse wack of musicians that have a very different aesthetic from their own, and the subsequent variation is easily one of the disk's strongest points. They are hoping the name recognition attached to the remixers will attract more devotees to their "stupid music for intelligent people", and I'm sure it will. (Grinding Into Emptiness - Ben Didier)
---
[Thine Eyes]
Last Modified: