---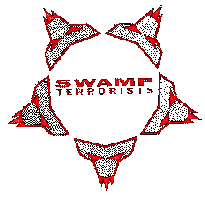 Interview with Ane of The Swamp Terrorists, conducted via e-mail by Kevin Congdon - 4/97
---
Kevin: With STR gone, do you see the band going in more of an organic direction?How does his leaving affect the creation of songs?
Ane: I discovered that there is a big difference between me and STR in relating the ideas of making music. The new material will be very different from what we've done before; on one side it will be more organic (with the new guitarist, I have the possibility to sample from our own sources); on the other side, we opened our sound more and more towards popular music. The main ambition is to create what we really like - no matter what it sounds like, what it is, or what someone 's expecting from us. This will drift us in very different directions: from house to Jungle, from Hip-Hop to Soul, or from Techno to Blues to Trip-Hop...
Kevin: Do you feel more comfortable writing and programming songs now that you've had more experience with it?
Ane: Actually this is not new for me. During the collaborations with STR, I already wrote and programmed songs for Swamp Terrorists or for my solo project. But in fact, I feel very comfortable with this new situation, where I have the possibility to realize my own ideas which are sometimes quite different from what STR had done.
Kevin: Do the other members have input into the creation of songs when you're creating them in the studio or do you use them mainly just for live settings?Would you say the new members have helped in adding a new element to the music?
Ane: The new members have a big influence in the studio work. They are producers, sometimes songwriters, sample-sources, or advisors. Of course, they bring new elements in our music and they encouraged me to try out new things or to burn down old barriers and structures.
Kevin: Why do you feel the need to create such long singles? And do you plan on continuing to release long singles?
Ane: Until this time, the singles have been a playground to create different ambiences with the sounds we used, or wanted to use for a song. In the future, we would like to work with different people to make remixes for us, and I'd like to work with people that have a different view of music than we have. This is a good way to discover what other musicians create with your basic material and with your song-ideas. There is an idea to send tapes to Egypt, Africa, India, or wherever; and it will be very interesting to see what producers from other cultures will do with our material.
Kevin: Who is responsible for the dialogue samples? What criteria do you have for selecting these samples?
Ane: This was STR's field. The main-criteria was the ambience of the samples. It wasn't really important what someone said - but it was important how it was said. Try listening to a splatter-movie without seeing a picture - this is fucking exciting...
Kevin: What kind of reaction do you hope the listeners get from your material? Do you hope some of your lyrics help in furthering the thinking process of some people?
Ane: No, I don't have this ambition, this would be presumptuous. For me, the phonetical aspect is more important than any kind of sense in my lyrics. I write about things that move me, make me angry, or amuse me. On our next album "love" will be the main theme and some of the new lyrics will be quiet trivial.
Kevin: Would you say your material is created in a dadaistic manner?
Ane: If you define "dadaistic manner" as "to do what you enjoy and to know no borders," I would affirm. But, of course, the result has nothing to do with dadaism, although our music is a kind of collage; a collage with all the ingredients of popular and modern music.
Kevin: Is there going to be a B-sides compilation of Swamp Terrorists material coming out in the near future?
Ane: No. We wanted to do something like that, but for me it makes no sense. I want to look forward and create all new stuff.
Kevin: How did your Japanese tour go?What kind of reaction did you get from them? And what are your future tour plans?
Ane: This was a nice experience for us. It was the second time we've been in Japan, and we really saw a big progress in relation to the reaction of the Japanese public. Japan is quiet a strange country, and it's not comparable to others; sometimes it was quiet difficult for us to understand the Japanese mentality. But it widened the horizon... Our next tour plans are a tour in Spain in May and there is a tour planed in the states in August.
Kevin: Is there going to be a live Swamp Terrorists album in the near future (which is now out on Metropolis, titled "Five in Japan")? Where is it being recorded?
Ane: Yes. We recorded it during two concerts in Tokyo. For me, this CD is kind of an endpoint to our old direction. It sounds very rough and direct, it has some new tracks and a cover-version of a PJ Harvey track. Th new material will be very different from the stuff on this CD.
Kevin: Have you enjoyed making the few videos you have made for yoursongs? Have they helped in increasing your popularity?
Ane: The medium of video would offer a lot of interesting possibilities to present our music and to visualize it. But in the past we had no budget for this. Our last video-clip (Pale Torment) cost only $4000 - and it was rather bullshit. MTV Brazil and MTV Europe showed it, but of course not on heavy rotation. So it didn't really help us.
Kevin: Do you hope to do more soundtrack work in the future?
Ane: Why not. The problem is, is that it takes a lot of time to do something like that. I made the soundtrack for the short-film "Quicky" by a young Swiss film-maker, and there were moments where I discovered my limits. He told me to create a funny ambience -- I really racked my brain and realized that it is more difficult than I thought.
Kevin: What is your new studio going to be called? Do you hope to remix artists to the extent that STR did?
Ane: It's called "Boom-Jah-Studio". I'd like to remix artists that make music that is very different from what we do. For example, I'd like to do a remix for Emel, a new R 'n' B/Soul star in Switzerland. Another remix I'd like to do is for the Acid-Jazz DJ Ferenz. But at the moment I have absolutely no time to do this.
Kevin: What style is your solo material? Any plans to release you solo material in the near future?
Ane: My solo-project is a kind of Jazzy, Trip-Hop, Ballad, Funk-Pop -- or something like that; it's very calm and melodious. I'm looking for a label to release it, and I'd like to release it this year. I already won a culture-prize here in Switzerland for this material. The next project I'd like to do is a pure Jazz CD; this would be very interesting for me.
---
[Interviews] [Sonic Boom]
Last Modified: