---

Interview with Jason Bazinet of SMP - conducted via e-mail 3/8/98
Photos by Jester Copyright © 1998
---
Jester: Can you elaborate in detail about having your gear stolen over a year ago?
Jason: Sure. We were on tour with Noxious Emotion. We made it to Texas a bit early, so we decided to check into a hotel. We didn't notice that it wasn't such a nice part of the city at the time. When we woke up in the morning our trailer, which contained all our gear, was nowhere to be seen. Needless to say, it was a sad day for both bands and anyone who wanted to come out and see us that tour.
Jester: Have you been able to recover/replace most of it?
Jason: Oh yeah. We upgraded all our stuff after that. SMP now records in their own studio. My credit card companies love me.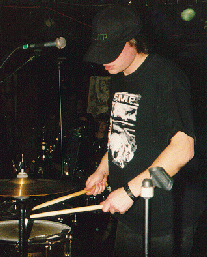 Jester: I noticed that while you are no longer signed to Re-Constriction Records, yet you still appear on their specialty compilations and label samplers. Why is that?
Jason: Yeah, one of the biggest misconceptions about SMP is that we are still signed with Re-Constriction. Chase tells me people still ask him when our next CD is going to come out. Normally, Chase's specialty compilations contain songs from artists other than just the Re-Constriction roster, so that's pretty standard. I have no idea why he wanted us on the CMJ sampler, he just liked our song I guess. Lately, I've done some remix work for some Re-Constriction bands too, Collide & Hexedene.
Jester: Why did you choose to cover Public Enemy's 'Prophet of Rage' for "Operation Beatbox"?
Jason: Our first choice was 'Approach to Danger' by NWA, which I wish we would have done instead because NWA should have been represented on that disc. And there were two Public Enemy songs on the compilation too. We liked 'Prophets of Rage' because of the delayed vocals in it. We did the delays with backing vocals instead of effects and it turned out pretty cool.
Jester: Why did you choose to cover 'Metro' by Berlin for "Nod's Tacklebox of Fun"?
Jason: We just liked the song and we thought we could make that song sound good, SMP-style. Plus it's cool to do a cover of female vocals. It's a love song too, so that was different for SMP. It was fun to put together.
Jester: Did you know that San Francisco based Gridlock had already done before?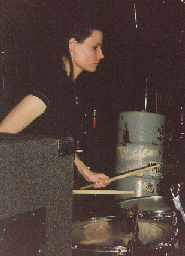 Jason: No. The Metro cover is years old. Re-constriction has been sitting on the Metro recording for close to a year. SMP was doing a show in Sacramento with Scar Tissue when the DJ played Gridlock's version of Metro. I actually hadn't ever heard of Gridlock before either. It doesn't really bother me that the song has been covered before, as long as the SMP version is better, that is.
Jester: How did you approach writing lyrics for the Vampire Rodents 'Revisioned' track from "Clockseed"?
Jason: Very quickly. Sean and I slam-dunked the lyrics to that song unfortunately. It's not our favorite song. I'd like to do something with Daniel again sometime though.
Jester: You also have appeared on a fair number of independent compilations recently. Have you done this in a continued effort to get noticed by other labels?
Jason: More importantly we do these compilations in a continued effort to get noticed by Industrial fans. The reason we didn't do them before is they weren't really around when we first started up. Now that everyone and their brother is on-line it's easier to network and the cost of CD manufacturing has gotten cheaper as well. All it takes is ambition and persistence to release your own CD. It's cool because it gives the record companies less control over what is heard and what is not.
Jester: What lead to Sean Setterberg leaving SMP and the addition of two new band members?
Jason: Sean started SMP with me. I've known him forever. We went to high school together and played in many bands together. He just wasn't having a good time with SMP anymore. Maybe he was burned out on SMP, I don't know. Christ Analogue asked him to join their band and he accepted. It wasn't any knock down fight or anything like that.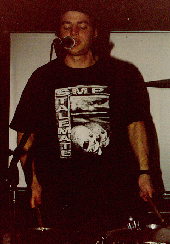 After Sean left the band I needed more musicians. We auditioned drummers and Matt was one of the first we auditioned and we liked him, as well as his playing, so we asked him to join the band. Guitarist Rick Aguilar, who performed on two SMP songs, was replaced later by a drummer named XianDi.
Jester: Do the two new members contribute to the writing process of new material?
Jason: Matt has contributed programming to two songs on the Ultimatum CD. Also, SMP's music isn't just created in a computer from start to finish. It starts in the computer then goes to the practice studio where we work on it and talk about what should be done with it. XianDi and Matt also will be playing the drums on the CD.
Jester: I noticed that your live shows contain almost exclusively new material with only a single older track. Why is that?
Jason: We just got sick of playing our old material. Sometimes I forget that other people want to hear that old stuff. It boggles my mind when I hear about bands touring on the same material for years. The Seattle crowd has heard our older stuff a lot as well. When we tour this summer we will definitely be playing some of the "Stalemate" stuff for people who haven't had the chance to see us live.
Jester: Now that you have completed the "Ultimatum" demo, how have labels been responding to it?
Jason: After talking with several labels we decided to release the 17 song CD on Catastrophe Records located here in Seattle.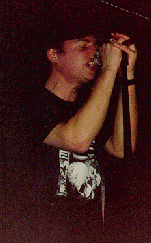 Jester: How did you first get involved with writing and composing music?
Jason: I started out playing the drums in various bands, I've played Rock/Wave/Goth and Punk. In the last band I was in, before SMP, the way we approached writing songs would be to program them on the keyboard and have everyone learn from the sequences. I always wanted to write music and I had ideas for songs but was never able to write since I could only play the drums, so I jumped at the chance to start programming. I started singing when SMP was formed.
Jester: Have any members of SMP ever had any type of formal musical training?
Jason: I've been playing the drums since the 4th grade so I've had some lessons through school. Matt went to the Seattle Drum School to learn to play as an adult and XianDi went to some drum school down in California to learn as an adult. Matt & XianDi have played in various rock-type bands and I've done some jazz as well.
Jester: What does the future hold for SMP?
Jason: Well we have a CD coming out in May. A tour will be scheduled for this summer. After that who knows?
Jester: Is there anything you would like to add that I have not covered?
Jason: Yeah. One of the other big misconceptions about SMP. What the HELL does SMP stand for! Last night, after opening for Mentallo & The Fixer, some guy told me he heard it stood for Smoke More Pot. I've heard a few pretty funny ones. SMP is the name of our product.
---
[Interviews] [Sonic Boom]
Last Modified: