---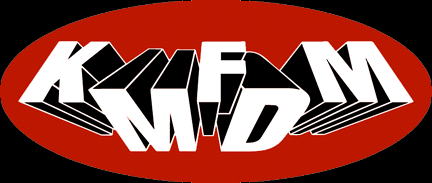 Interview with KMFDM - Roseland Theatre, Portland, OR - 11/3/97
---
Jester: I noticed on the past few albums that you have chosen to include a number of guest musicians. Why is that?
Sascha: It really isn't anything new, it's always been this way. It just wasn't until "Nihil" that we decided to put together a booklet and give everyone credit for their work. We always had guests on our albums, we just never felt the need to mention it because we didn't want to sound like a clone of bands like Pigface who used the concept of name dropping to market their albums. Over the years we found that people wanted to know more about who was involved with making the music, so we started to give in and give credit.
Jester: When you look for a new contributor to an album, how do you decided who to choose?
Sascha: 9 out of 10 contributors only add lyrics. In the case of this album, Tim Skold, Raymond Watts, and Ogre did not ad a single note to the it. On "Xtort", F.M. Einheit and William Rieflin did help with the music but they are the exception to the rule. Even on "Nihil", Raymond only added vocals and no music.
Jester: Which guest artists are performing on this tour? Are any of those artists performing any of their own music?
Sascha: Ogre will be singing the track that appears on the new album and will be on-stage for about half of the set. Tim will sing his tracks off the new album, as well as a few others and some Skold material.
Jester: Why did you decide to perform material other than KMFDM tracks for the first time on this tour?
Sascha: When we started planning the tour we sat around brainstorming about what type of tracks we wanted to perform live. Ultimately, we wanted to avoid preparing for the tour anymore than needed, so we ended up choosing to perform the same set throughout the entire tour. We tried that first set, we changed it a little, and now we have found a set that we really like.
As for Tim, we needed a vocalist to sing some of the tracks where En Esch or myself don't sing. He was an obvious choice to sing on his own material as well as tracks that Raymond sung on the last tour. I also didn't want to dig too far into older KMFDM tracks like 'Virus' & "More & Faster'
So when I was hanging out with Tim working on the material we were going to use on this tour, I came up with the suggestion to play a few Skold tracks live. I figured it was a good idea since we were not going to be playing a lot of older material to try something new and different that we have never tried before.
Tim: Personally, I was kind of worried about performing my material on-stage with KMFDM because I didn't want anyone to think that I was on an ego-trip. So I want to make it clear that it was Sascha's idea. Ultimately what makes a show fun is when the band enjoys performing on-stage, and the guys really seem to enjoy playing my material so that makes me happy.
Sascha: My opinion that that we could perform a whole set of ABBA covers and it would still be a KMFDM show. It doesn't matter whose songs we play, it just matters that we are performing them and having fun. Seriously, I am very tired of chugging through songs like 'Go To Hell' and any change is good.
Tim: What is also very unique about this KMFDM tour that is we arranged the set list so that none of it is on tape. Instead all we have is sequences and loops on a hard drive, so we could really easily change the set list if we wanted. The original idea was to change the set list every single night, but we just happened to find a set list that really works well so we are going to stick with it until we get bored and then we'll change it.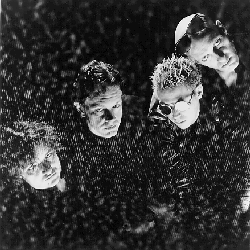 Sascha: When we get into Seattle in a few days, we are going to grab a few ADAT tapes and try to add some new songs on the road. The thing is, the tour started a month ago in Germany with a local act, Rammstein. We really didn't know what to expect so we took a real low key approach to the set list and included a few German songs to help appeal to the locals. As we went along, we learned what did and did not sound well.
The addition of Tom Servo on a live drum kit has really changed the way we sound live. It is not longer just En Esch and myself on drum-pads. Letting go of two of our guitarists also changed the way we sound this time out. Not to say that we don't use guitars live, but they are simply not as present this time around. The guitar has also been an instrument that seems to take over all of the other music on-stage, so by removing them it allowed us to gain a great deal more depth and clarity to the music instead of the usual guitar onslaught. Ultimately you cannot find a better guitarist than Gunter so why bother to bring anyone else on the road?
Jester: To use a horrible marketing term, you seem to use a lot of the Electronica elements on the new album, why is that?
Gunter: Actually, we have been working with those kinds of elements as far back as ten years ago with tracks like 'Itchy Bitchy'. It just so happens that Techno music is going through a current state of revitalization at the same time we chose to reexamine our own musical history.
Sascha: So it's not like we are doing anything that we haven't done before. Instead we decided to let some elements like guitars go and allow some of our older influences become more evident. Albums like "Angst" just happened to be our personal experiments into rock. Remember, we are not an American band so we never had the mind-set that the guitar was the sole instrument on which to write music. We come from a background of Kraftwerk and Beethoven.
Gunter: I also think that every KMFDM record is like a snapshot of the current people we are working with musically.
Jester: How did Europe react to your performances?
Sascha: In the countries that have been cordoned off by the Iron Curtain they want to hear bands like these. The whole set of musical terminology is different as well. They call KMFDM Techno-crossover, so while the term is essentially meaningless, I think it is better than calling our music Industrial. When I think of that label, it refers to a late seventies phenomena that ended up the early eighties.
Jester: How much effect did the catastrophic loss of the final mixes of this new album back in April have on the new album you just released?
Sascha: It wasn't catastrophic at all. Actually it was kind of a blessing in disguise. I think it enabled us to sit down for a month and listen to all of the material we had, even with all of the technical glitches, and end up making a record that we all really liked.
The bottom line of that problem was that the Iomega Jaz drives do not function well when they get hot and are placed next to a monitor that is larger that 17" in size. The heads on the drive tend to spin down the hotter the drive gets and when any time the head spins down, the disk slows down as data is written to it. It ends up making all of the music audibly a pitch higher than they were supposed to be when these spin downs occurred.
Tim: Iomega is a symptom of the disease that the entire computer industry is a victim. The whole industry focuses way too much on marketing and too little on research and development. So they end up selling stuff before it is thoroughally tested because everyone wants it more and faster.
Sascha: The algorithm that is applied to the data compression on the Jaz drive was also a little bit flaky so that the master disks sounded different every single time we played them. We ended up with a bunch of funny, high-pitched squiggles that are symptoms of badly compressed square waves.
Jester: Do you think it is unfortunate that MTV plays such a prominent role in ability of an artist to be successful in the music industry?
Gunter: Over in Europe MTV seems to be losing it's grip on determining what is popular to listen to music-wise. Bands like Rammstein are very large over in Europe without the aid of any music television program. Hopefully it is a sign of what is going to happen in this country.
Sascha: We don't need MTV. It is unfortunate that they hold a monopoly on the music video system in this country simply because they do not have any competition. As soon as someone can put together a good video program that offers MTV any competition, it would obliterate MTV's hold on the music industry.
Jester: How did the addition of Pig to the tour occur?
Sascha: It was just a matter of convenience. The tour package of KMFDM and Pig was brought up earlier this year and it ended up being the best option. Some other options were to team up with these so called Electronica bands and that was something we wanted to avoid endorsing. Choosing Pig also allowed the possibility to perform a little bit together which hasn't happened yet but it could.
At this point the whole tour is still trying to find its own rhythm. The crew is still trying to figure out the packing of the truck, the tour manager is still trying to figure out how long the interviews will be, etc. There are a lot of new personnel on board so, as soon as we get into a good rhythm, we will try to mix things up.
Jester: How has technology been able to give you more options for your music?
Sascha: We have always tended to use the newest stuff on the market. We have always been fond of cutting edge technology and for the most part it has always been good to us. It also allows us to find out what technology works and what doesn't so that we can warn people away from bad hardware. In fact, I think that Re-Birth has sold 250-300 copies of their software simply from the link and recommendation on my web site.
In the long run there is always some sort of collaboration that occurs between us and the companies who make the material. Right now I am working on some sequencing and software based recording systems for a company. Companies who make this stuff need people like us to test it out for them. So we are happy to oblige them.
Jester: How much of the material does Tim "sing" on in the live show?
Tim: I "sing" on the two tracks off the new album, two of my own tracks, as well as some backing vocals. I'm onstage the rest of the evening playing guitar, keyboards, and drum pads.
Jester: Are you happy living in Seattle now?
Sascha: It really doesn't matter where I live, it just happens that it rains a lot in Seattle, so I am not distracted too much. I tend to get distracted really easily with a lot of outdoor activities like skiing.
Jester: How much time do you spend on an average day working on music?
Sascha: Around 20 hours a day.
Gunter: No you don't!
Sascha: Yes I do! I am always taking notes in a little notepad I carry around.
Tim: I've had the opportunity to work with a lot of different musicians and one thing I always had a problem with was artists not wanting to put in the hours that I wanted to put into the music. Sascha is the first person I've met that has the same mentality that I have towards working.
Sascha: I don't smoke pot, drink, or do drugs, so I don't have the problem of flaking out because stupid reasons.
Jester: What does the future of KMFDM hold after the tour?
Sascha: Right now it is a bit uncertain. We don't have any solid plans yet. We kind of want to see how the tour goes first.
Gunter: We did get invited to play a few Eastern European musical festivals next spring. It remains to be seen whether or not we will go but the invitations have been made.
---
[Interviews] [Sonic Boom]
Last Modified: