---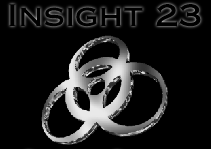 Interview with Insight 23 on May 5, 1996 in Dekalb, IL
---

After driving several hundreds of miles to two separate shows and spending the night in the same floor as the band, I finally managed to obtain an interview from the band as we sat at breakfast in a greasy restaurant in the middle of Illinois. More than a few well placed insults had been traded back and forth the previous few days and they were in a jovial mood. The band fessed up and said I would probably get the most honest interview given to date simply because of all of the shit I had put up with previously and my willingness to keep the majority off the record. The ended up being very true to their word and here is an excerpt of the brief conversation as well as a few sordid tour related details.
---
Jester: I know you mentioned this earlier but I was hoping you could go into a little more detail on the gun being pulled on you in Milwaukee at The Unicorn, several dates being cancelled in the Midwest, as well as the status of the tour.
Blayne: With the exception of the gun incident the tour has been pretty good. It's been really really cool. More blood that we expected to see. Far too much alcohol that perhaps we should have imbibed. However I think the tour has been very representative of what band. Well as with any tour there is the glitz and the performance but there is always the grime that comes with it. Overall I think the tour has been very good.
Jester: Even with having a gun pulled on you?
Blayne: Yes, because it adds another story to talk about. I really didn't see the gun at first. All I heard was some commotion and since I always have to be at the center of trouble I went over to it and Brittain had his arm in the way trying to stop me. I slipped past him and right into the guy with the gun, which stopped me short all of a sudden with shock.
Jester: Your playing two new songs from the forthcoming album on the tour?
John: Yes, "Enemy Mind" and "Revolution X" So far that is what they are called.
Brittain: That could change like thirty times between now and the final mix.
Jester: How far along are you on the next album?
John: We've got a few ideas!
Blayne: We sort of purposely decided to write the majority of it when we finished the tour because there will be a great deal of influence on the road.
Brittain: Definitely, there is going to be a track called, "Gun Puller"!
Jester: Is it going to be release on Fifth Column like your debut album?
Blayne: Yes it is. The label has been asking about a follow up recently, and they've done a great job since we've been on tour. Jay has been great and sending shit everywhere. Jared has been supportive. (jokingly) However I am worried about the Doc Marten endorsement we just got being sent to the FCR office and never being able to find the shipment when we get back.
Jester: What was the reason behind the string of dates that got canceled in the midwest and east coast?
Blayne: Acumen. Well, it is not Acumen's fault. They all really wanted to do shows with us, in fact we'll be playing with them at The Batcave in New York. Digger, their booking agent, happened to collide tour dates with us on the East Coast and several clubs decided to book Acumen instead of us. We would have really liked to have played at all the shows with Acumen, but Digger would not have it.
Jester: So you lost Grand Rapids, Detroit, and two more dates?
Blayne: Four dates in all.
John: Michigan, Maine, New Jersey, Long Island.
Blayne: I think it was a money issue with the clubs who really didn't want to shell out more money to have four bands play at each date. The guy at the Batcave actually asked us if we would allow Acumen to play with us, which we agreed to because we really enjoy them as a band regardless if we don't like their booking agent. Booking a tour like this on our own makes us very aware of the money issues involved. You have to plan on getting paid just to pay the bills. We simply could not get our guarantees for those shows and neither could Acumen if we all played so the dates got cancelled.
Jester: Your going to Boston next to do a radio show with Ashley Wicked of Goddamn, Governed by Electronics. Are you playing on the show or doing an interview or both?
Blayne: Both. We're playing a few tracks in studio at the radio station and right now we're not sure how that is going to happen since we've never done anything like this before.
Brittain: We thought about pulling our Exorcist stunt on the radio show but we figured that it would not work. Did we ever tell you about that?
Jester: No, please enlighten me.
Blayne: For the Exorcist stunt, we just put the soundtrack for the movie The Exorcist on and play noise over it. We're probably going to do it at our Los Angeles show.
Jester: Does anyone else else have day jobs besides John?
Blayne: We all do. John even started his own company. I love my day job and I'll keep doing it as long as they'll have me. John used to work at the same place. Brit is wearing the T-shirt, a place called Sound Source Interactive. We both work there.
John: They started out as a keyboard sound manufacturer and have expanded to developing computer CD-ROMs.
Blayne: I started out selling sounds for keyboards. Then I moved up into computer graphics. I'm in a position where they will let me take two months off to tour as long as I give them enough notice. My boss who is the creative director for the company is also the director for our "Obsess" video. Very talented.
John: He did the album cover for the Fifth Column release. He did the actual interactive CD-ROM portion of the album. He also plays a part on the "Backwash" video. He's like the unofficial fourth member of Insight 23.
Jester: Did the interactive demo change from the old floppy disk version that you sent out with the old tape demos?
Blayne: Yes it is a little different. It has some different sounds on it, different screams, the contact info, our pictures. The sound quality is way better.
Jester: Which three songs have you filmed videos for, and what is the fourth one that you just started? I know you just gave me the videos for "Obsess", and "Disease", and you mentioned "Two More Reasons".
Blayne: "Backwash" is the new video which was produced by Virtual Night Angels boyfriend.
Brittain: We've got the entire story board totally finished and will film it after we get back and relax a little from the tour.
Jester: What amazes me is that your the only band on Fifth Column to have filmed a video, besides Chemlab, and your going to have four from the same album.
Blayne: We like videos, We feel very strongly about them.
Jester: Is a large portion of it because you've been able to have them cheaply produced, basically free?
Blayne: That is a large portion of it. We would definitely be doing it away, although it probably not look as good because we would not have the money to afford the quality.
John: We also probably would not has as many. We've been really lucky to work for people who are really into our music and film in general who enjoy helping us with our video work.
Blayne: Most of the people have actually approached us with the idea for the various aspects of the videos instead of us coming to them. "Disease" for example, the director accosted us one day at breakfast with the storyboard. We actually had an idea for a big budget affair which would have probably never been possible due to costs, but we choose to use the director's idea. It was a completely different play about the song concept. We're actually supposed to film a few more scenes for the video, revise it, fix the continuity of it before we release all four videos together in one complete package.
Jester: So you want to package all four videos into one complete release?
Brittain: There will probably be more than that. There will at least be five videos total.
Jester: One the original tape demo you sent me, the only track that wasn't released from it on the debut album was the rave remix of Disease?
John: Yes, and we added some new tracks, remastered, remixed all the old tracks as well.
Brittain: That demo was released a very long time ago.
John: The was something like twenty-six hours of mastering involved on 'Obsess'. I actually went to the guys house and sat there forever while he mastered it to make sure everything turned out well.
Jester: How did you get involved with Fifth Column records to pitch them your album and have them release it?
Blayne: We used to frequent the same club that Brian McNellis did. WE really didn't intend to get signed and we not even shopping around. We were just recording music and sending copies out to fans. All of a sudden we heard that Fifth Column had arranged a distribution deal with Caroline and we told to get a hold of them and try to get signed. We compiled this entire promotional package for them. We got the typical Brian McNellis response of "We think you guys are scum, but we think we want to sign you." Brian went Washington D.C. where the label had all sat down and listened to all the demos that had been sent to them and decided who they were going to sign. He came back to California and waited like a week to tell us the news. Then we had three separate phone calls from Jared to work out the contract details and we were signed.
Jester: Any last words you'd like to share with your audience?
Blayne: Buy the album! It should be a heck of a lot easier to find. Actually this interview is very good because people will see that Insight 23 has a sense of humor and we are not a bunch of tight asses. Please come out and see us on tour when we come to a town near you!
---
[Interviews] [Sonic Boom]
Last Modified: