---

Interview with Yone of Decoded Feedback - conducted via e-mail 3/12/98
---
Jester: How did you first get involved with writing and composing music?
Yone: We first started playing together in January 1993. We were living in Italy at the time. The Industrial scene was so vibrant and alive that you couldn't help but want to get involved at a much deeper level. We first started playing just for pure enjoyment, but as time went by it got more and more serious. The next thing we knew we were offered a contract from Hard Records.
Jester: Have any members of decoded feedback ever had any type of formal musical training?
Yone: Not really. I did study at the royal conservatory of music in Toronto for a short time, but formal training has never really been the inspiration for creating our music. We create our music by instinct. It's in our blood.
Jester: How did you meet Halvx2 of ATD Convention and arrange to work with him?
Yone: We met him through our mutual friend Sheldon from ATD Convention. We first approached Halvx2 because he had a studio and we had to record our first CD "Overdosing". We were so pleased with the results that we recorded our second CD "Technophoby" there. Now we have just finished recording our third CD "Bio-Vital" which will be released on Zoth Ommog and Metropolis records May 1998. Halvx2 also remixed 'Fear' and "Technophoby". We really liked what he did for the remixes so we started a side project with him called "Transceiver Unit".
Jester: How did the record label switch from hard records to Zoth Ommog occur? Did it have anything to do with the financial problems with hard records?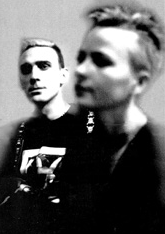 Yone: Hard Records was laying off most of its groups due to a change in musical format. Luckily, Christian Rosen liked our music so much that he introduced our music to Torben Schmidt at Zoth Ommog who immediately took over our contract.
Jester: What it is like residing in North America, but being signed to a European record label? Do you converse much with the labels who license your material domestically?
Yone: Because we were living in Europe it was quite natural to sign to a European label. Communication is a little more difficult now that we reside in North America, but with all the forms of communication available today, it's not too difficult. We are constantly in contact with the guys at Metropolis. They have been a great help. They are a great bunch!
Jester: Decoded Feedback currently resides in Toronto, correct? What is the scene like in Toronto?
Yone: We moved to Toronto in June 1995. The Electro-Industrial scene is really good here. There are great DJ's like St. Dave & Greg who play all of the newest tracks. These DJ's support and promote even the newer, lesser known groups.
Jester: Are you upset about all of the track listing mistakes? (Cleopatra version of Overdosing - Hard Records anniversary compilation) Do you know how this happened?
Yone: Well, that's a long story. To make it short, someone over there mixed up the track listing. We were a little upset, but then again, the first pressing of "Overdosing" will now become a collector's item.
Jester: Are you excited to be touring with Individual Totem for the East coast portion of their tour? Are there plans to tour the rest of North America?
Yone: We are really excited about this tour. This will be our first time touring the U.S. We hope to tour the rest of North America in the near future. We might be touring Germany in the fall in a Zoth Ommog package tour.
Jester: What does a live Decoded Feedback show look like? Are there any additional members who only perform live?
Yone: We love performing live. It's really exciting. However because there are only two of us, we try to make up for that by using visual effects like video, slides, strobe and smoke. We find that playing live gives you the inspiration to create more music. You really get to see the audience's reaction.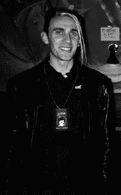 Jester: The title of your most recent album, "Technophoby" is very provocative. Were you trying to make any kind of statement with that title?
Yone: Some people have asked us if we are afraid of technology. The title reflects our feelings towards the take over of technology and how people live their lives through computers. We are not afraid of technology. We think that technology can help your life, but it shouldn't take over your life. These days people have become too obsessed. They live their life through computers. Even music is being produced by computers. We have always believed that you must create your own music. Computers are made to help us, not to think and feel for us.
Jester: What can we expect from the new album "Bio-Vital"?
Yone: We feel it's our best work yet. We have evolved a lot. There is still a mixture of darker tracks and heavier, upbeat tracks, but the tones are newer and richer. We are really proud of this CD.
Jester: Have you been able to find time to work on your side project Transceiver Unit yet? When can we expect material from this project?
Yone: We already put down four songs. You should see something pretty soon. We are just working out the details.
Jester: What does the future hold for Decoded Feedback?
Yone: We are planning to release a mini CD this summer containing remixes & covers, and of course, some new tracks! We are hoping to tour more in the future. We are also in the process of making our first music video. Check out our web site in the near future for a video clip from our concert last October in Toronto with Covenant.
Jester: Is there anything you would like to add that I have not covered?
Yone: Go out and support new bands! There is a lot of talent out there. Help it grow. Help keep Electro-Industrial alive. Many people have put down newer groups saying "they sound like so and so", or "it's been done before". If this music were rock and roll, these statements wouldn't be made. Be more supportive of the music you love. This is one of the only truly alternative musics left. Don't let it die.
---
[Interviews] [Sonic Boom]
Last Modified: