---

Interview with Das Ich - conducted by e-mail - 7/97
---
Jester: How many cities did you play on your recent tour?
Bruno: The tour was about thirteen shows. We tried to have a real big live set and had a lot of fun performing for this audience. Due to organization problems we had no chance to do shows like we do in Europe. It was always a little stage set. For more tour information check our web page with a complete tour diary.
Jester: How are European audiences different from US audiences?
Bruno: They are not so excited to see us live because we play there more often. We have bigger audiences in Germany but all people in the world are the same.
Jester: What motivated you to form Danse Macabre Records? Will there ever be any other releases besides for Das Ich material on Danse Macabre?
Bruno: No more new releases. We cancelled working on Danse Macabre because it kept us away from doing new Das Ich songs. This promotion work left no time for our music and I prefer doing recording jobs in my studio. So now, Danse Macabre is no more a label, but our studio is growing!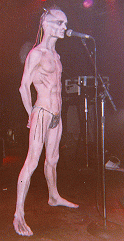 Jester: Financially and sales-wise, how is the label performing?
Bruno: The other bands didn't sell so well, another reason to quit the label.
Jester: What is your favorite release on your record label?
Bruno: Kalte Farben, Ichor and Printed at Bismarcks Death.
Jester: How did you end up on Black Orchid Records for your domestic distribution after being on Etherhaus for so long? Will they be reissuing all of your older albums in the US?
Bruno: Black Orchid only did a single re-release for us. We are still looking for a new label for the next album.
Jester: When did you first start writing and composing music? What motivated you to write music in this particular genre?
Bruno: I started writing music around 12 years ago and we started Das Ich in 1989.
Jester: Although I don't speak German, I was wondering where you draw your lyrical influences from?
Bruno: A lot from writers like George Trakl and Baudelaire.
Jester: Have you done all of the cover art for the Das Ich albums?
Bruno: Cover concepts are for me a part of the whole concept and I like working on my Macintosh with Photoshop. The work on music and graphics seem to have for me the same kind of fascination, but I think I am better in writing music.
Jester: Have either of you had any type of formal musical training?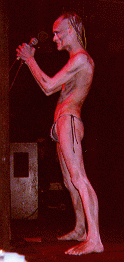 Bruno: I started playing piano at 16 and learned a lot about classical music from my dad who was a classical composer and singer.
Jester: Have you ever thought of writing some of your lyrics in English or are they all written in German on purpose?
Bruno: We are actually planning to record some tracks in English lyrics as a kind of gift for our American audience.
Jester: Who are the other live members on stage?
Bruno: Daniel Galda on keyboards and Jakob Lang on drums.
Jester: Where did Stefan get the idea for his stage performance and costume?
Bruno: It is inspired by films like "Das Cabinet des Dr. Caligari" and other expressionist films and theater plays.
Jester: When will the new album "Egodram" be released?
Bruno: I hope soon if there is a company interested in releasing it.
Jester: Where do you draw your musical influences from?
Bruno: Not easy to say. I think everything which happens to or what you listen to you is an influence. There is actually no band with an efficient influence on our work but the different styles we listen to are giving us different views on our own work.
Jester: If you were forced to describe your music with a single sentence or phrase, what would it be?
Bruno: What about: Industrial Symphonics? It is not so easy to find the right corner we fit into.
Jester: When you sit down and write new Das Ich material, do you have a certain procedure you follow, or is it all random?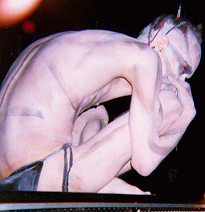 Bruno: I start writing the songs always on the piano and then I construct and create sounds and samples before recording on the sequencer. When I am finished I track the music to Stefan, telling him basic ideas about rhythmic structure and arrangement and he starts writing the lyrics.
Jester: Does Stefan play any role in the music making process besides the lyrics?
Bruno: No, he only writes lyrics.
Jester: Do you design and maintain your own web pages or does someone else?
Bruno: No I do it on my own, programming and computers are my main interests beside music.
Jester: Has the Internet helped you keep in contact with your fans and audience?
Bruno: It is the most efficient infosystem for bands like ours with a fantastic speed and good distribution.
Jester: What was it like working on the soundtrack for the film, "Das Ewige Licht"?
Bruno: Some really new experience in comparison to our normal work. When I start writing music for Das Ich stuff I create a kind of picture in my head for the music, this time the pictures came from someone else. By the way, it is hard work to deal with frames and exact time based climaxes and movements synchronized to the picture, in technical and musical terms both. It was just fantastic.
Jester: Will the music from "Das Ewige Licht" ever be released as an album?
Bruno: Actually it was released on Danse Macabre in January, 1997.
---
[Interviews] [Sonic Boom]
Last Modified: