---

Interview with Covenant, Trocadero San Francisco, CA - 10/11/97
---
Jester: Are you excited to be performing in the United States for the first time?
Eskil: Yes
Jester: How did you get invited to headline the Industro-Rave? What about the rest of the tour?
Eskil: Don from 21st Circuitry called and asked if we had any free time around the middle of October and we did.
Joakim: As of one week ago we had no idea we would be playing a total of ten dates, we only thought we would be playing this show.
Kevin: Who is financing the tour?
Eskil: It is partially being funded by 21st Circuitry and the rest by OffBeat. It is definitely a good promotional tool to help promote our band in the United States.
Kevin: Have you received any feedback from US fans?
Joakim: I know the response to our music has been good.
Eskil: However we haven't received any official fan mail through our labels.
Jester: Whose idea was it to do the video for 'Figurehead'?
Eskil: Don's.
Jester: Have you actually seen it?
Joakim: We saw it yesterday.
Eskil: I don't know if it has been shown anywhere yet, but I hope it will.
Kevin: Is that the first video you've ever done?
Joakim: It is the second actually, but the first video we never talk about.
Kevin: Were you involved in any of the creative process of the video?
Eskil: No, and it was the second time we had nothing to do with the video. The first video was shot and edited by a friend of ours in his spare time in a studio between the hours of 1am to 3am or whenever he found the time. The second one was done through a San Francisco video production facility.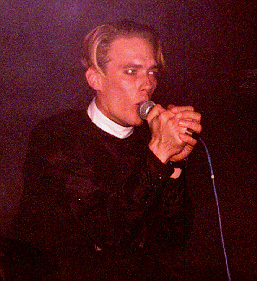 Kevin: Did you find the video to be helpful as a promotional tool.
Joakim: Sort of, it was played on the Swedish national television station a few times when they had specials that focused on Swedish bands.
Jester: Are only the two of you going to be performing on this tour? Where is Clas?
Joakim: Clas got a new job just before we schedule this tour and it was impossible to arrange time off from work for him to come with us. It's too bad that he was unable to come with us.
Kevin: Normally what you play live is it all three of you?
Eskil: Yes.
Jester: Do either of you have jobs outside of music? Does your music pay for your lifestyle?
Joakim: No.
Eskil: Our music barely pays enough to live on, but I just helped produce the new Cat Rapes Dog album a few weeks ago and that helps a little bit with money. It's not quite like making our own music but we have to do it to live.
Kevin: Do you do just production, engineering or remix work?
Eskil: I work mostly as an engineer or a producer. We also get a fairly decent income when we play live.
Joakim: Sweden also has a fairly good social security system!
Jester: That's is so different from the United States because bands here cannot make money when they tour. It's impossible. The clubs pay enough money to pay for gasoline and you live off merchandise.
Eskil: We usually get paid like $1,000 for a show in places like Germany so we make due.
Jester: Have you left Momento Materia and are you now on Offbeat Records in Germany?
Eskil: We are on Offbeat Records in Europe but not in Scandanavia, and 21st Circuitry in North America.
Joakim: We just signed to a new label, SubSpace Communications which is a new Scandanavian label. We have our own production company so we just license our albums out to various labels and distributors to help get it out to the public.
Jester: Do you find it hard to be a Swedish band singing in English, or is that actually a fairly normal thing in Europe?
Joakim: It is very normal. The Germans and the French don't speak very much English but it is a required language in Sweden and they teach it in state schools starting at the age of eight. The is an extremely large Anglo-Saxon influence in Scandanavia so it is very normal to have English taught as a second language there.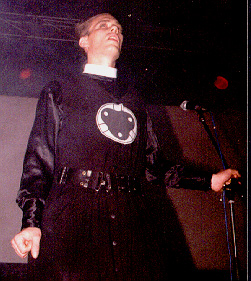 Eskil: Swedish is a very good language for expressing yourself because there are many very elaborate ways of saying the same thing but English is good if you just want to get to the point.
Kevin: Have you sung any songs in Swedish?
Eskil: Not as Covenant.
Joakim: We did two tracks in Swedish back when we were called Replicant.
Kevin: How come you haven't fallen into the trap of moving towards Synth-Pop music like a lot of the Scandanavian bands have recently?
Eskil: Five years ago, most Swedish electronic bands were big into the crossover scene. Now there are a lot of Synth-Pop bands but I don't know why.
Joakim: I think there is a problem with Synth-Pop bands because they are not looking towards the future musically, they are looking at the past. With Covenant we always want to look towards the future in our music.
Eskil: Most bands played Synth-Pop years ago and just changed with the times. So it's not like they are doing anything new, they have always been Synth-Pop bands since their inception. It's just a new fad in Swedish music.
Joakim: There are also quite a few new labels who are big into Synth-Pop which is helping out the movement.
Kevin: Are there any labels left that are not releasing Synth-Pop.
Joakim: Infam Records.
Eskil: They released the Seven Trees album. However there are not a large number of harsh Swedish Electro bands.
Jester: One thing that I really liked about your music is your lyrics. It is often so hard to find an electronic bands with very meaningful vocals. How do you choose what you sing about? Do you choose political themes?
Joakim: We don't sing about politics. I very much try to avoid politics as much as possible. Personally, I have two nasty words that I avoid; politics and love. We don't write about either. A lot of our lyrics come from everyday experiences and we read a lot.
Jester: Who are some of your favorite authors?
Joakim: Steinbeck and a lot of Science Fiction authors.
Eskil: Palowski, Ballard, those kinds of things.
Kevin: Do you both share the task of writing the lyrics?
Joakim: No actually, I write all of the lyrics and Eskil write almost all of the music.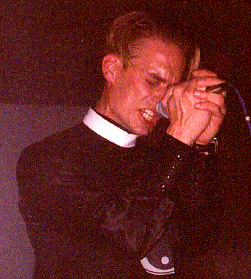 Jester: So the vocalist writes the music and the guy who writes the lyrics plays the music on-stage? That is really different.
Joakim: It actually causes some problems on occasion. I often complain about the way that Eskil sings certain portions of the vocals that I write and he complains about some of the music that I write.
Jester: You mentioned that you are working on a new album, does it have a title yet?
Eskil: I don't know if we have an official title yet.
Joakim: I think we do. We are probably going to call it "Europa". It has a very Kraftwerk sound to it.
Kevin: Are you going to be utilizing any theme on the new album?
Eskil: Not any more than usual.
Joakim: We don't ever think very much in terms of concepts when we write the music. They just happen to pop up while writing the album.
Kevin: What do you think about the US releases?
Eskil: Other than being release radically out of order and the addition of an extra remix, we are happy. However, we have heard that it is almost a must to release singles with extra tracks.
Jester: Are you still going to be doing the Remix War with Apoptygma Berzerk?
Eskil: It is going to happen, but when and where we don't know for sure.
Joakim: We have to find time when both of us are between releases so we can find the time to do it properly.
Kevin: Have you done any remixes before?
Eskil: We remixed a Haujobb track called 'Cleaned Vision' for the Matrix CD.
Kevin: How well has Covenant been received in Europe?
Joakim: We were voted the independent artist of the year in the largest Swedish music magazine in 1996.
Eskil: We were also voted as having the #2 album of the year in the same magazine.
Kevin: Do you ever have to deal with any over-zealous fans?
Eskil: No, we really don't have a problem with that yet.
Joakim: Generally speaking, we don't really enjoy people putting us on a pedestal, but a few German fans have come quite close.
Jester: How did Covenant first form?
Joakim: We started making music in 1986 for fun. Then around 1990 we started getting serious and started a project called Replicant. However nothing much happened until 1992 when we had our first release as Covenant.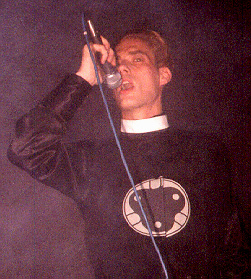 Jester: Did any of you have any type of musical training?
Eskil: I played the violin for several years as a child but that isn't very relevant for this type of music.
Joakim: To me the whole concept of making music was almost second nature.
Jester: How did you first get involved with making music?
Joakim: We all came from the same town in Sweden which isn't very large, just about 100,000 people. So all of the people who were into this style of music got to know each other rather well.
Eskil: For example, I went to school with the guy who started Machinery Records.
Joakim: We all met when we attended a Front 242 concert in 1986. On the train ride home from the show, we got to talking and we found out that all of us had synthesizers at home. So it was almost an instantaneous idea to start up a band.
Eskil: A lot of the shows were usually very far away from our hometown, so it was very normal to get to know the people who you shared the train ride back with when you saw them coming back from every show.
Kevin: What does your live show look like?
Joakim: Unfortunately most of our show in on DAT tape because Clas could not make it on this tour.
Eskil: Years ago we were very visually oriented and sometimes never played any of our music live on-stage. Of course, we didn't pretend to play either. We had this atmospheric set with costumes, lights and smoke.
Joakim: If you look at the background artwork for "Dreams of the Cryotank" you can get an idea of what those shows used to look like.
Eskil: We had to give that up because it was like four hours of work before each show and those costumes were horribly hot under the lights.
Kevin: What does you normal live show look like if Clas is playing with you?
Joakim: Two keyboards, a DAT player and a vocalist. We really don't have any visuals anymore.
Jester: What would you consider you favorite Covenant track?
Joakim: My favorite track would have to be 'Babel'.
Eskil: I think my favorite would have to be 'Liquid Sky' because I haven't gotten bored of it yet.
Jester: Is there anything else you would like to add in conclusion?
Eskil: We make music and that is the channel we have chosen to express ourselves. I want people to overlook all of what you have read about us, and judge us solely on our music because that is what is important.
---
[Interviews] [Sonic Boom]
Last Modified: